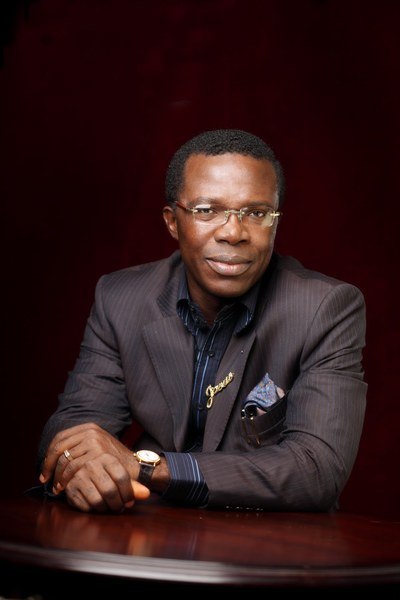 Suave, staunch and shrewd; Calm, cool and collected, bespectacled in a well-tailored suit, his eyes beam behind the glasses. Standing, unflinching, he runs his signatures across several pages of documents brought before his expansive table.
He sips a cup of tea as he takes a cursory glance at the newspapers on his table. As one of his aides passes a small note to him, his phone beeps; he looks...
at the note and the phone simultaneously and took in both information almost simultaneously. He takes off his glasses and wipes his brow with a snow-white hankie. He puts back the glasses. "The Honourable Minister of Transport is on the line to talk to you Sir," a female voice chimes. "Put him through, please," he said with a smile. That conversation took an hour.
He ended the call with a chuckle. He reaches for the hankie again, takes off his glasses and dabs his face. He checks the golden timepiece hanging luxuriously on the wall of his office; he knows as usual that a long day lies ahead of him. He is the President here – no, not the President of Nigeria. He is Cosmas Maduka, the billionaire President of Coscharis Group. With his staggering wealth and business empire, Maduka is a mogul unlike many others. A dropout at the age of four, without the benefit of formal education but with a deep-seated desire to be successful, he rose from grass to grace. He runs an automobile industry that is arguably second to none in Nigeria; and that is just an aspect of his ever growing business. In this interview with Omolabake Fasogbon, the Coscharis boss talks about his humble beginning as an apprentice without hope, his staying power, lifestyle, love life and an indelible experience that moves him to tears
• My Wife's Family Wanted to Kill Me for Daring to Date Her
• I Dropped Out of School at the Age of Four
• I Ride Bike to My Office and Official Meetings
The sudden exit of the breadwinner left an indication that the bread may no longer be sufficient for all. And for Cosmas Maduka, the life of hustling had to start. The first pang he felt of his father's death was for him to leave school at primary three and that sounded like his dream of becoming a wealthy man had been killed.
"It is not my fault that I didn't go to school and I am not embarrassed about it. The death of my father denied me access to formal education but that did not take away who I am from me. In fact, my father's death brought the best out of me because I ceased from becoming a liability to the family but became an asset. Everybody is gifted in a particular way and my not going to school didn't take my endowed gift away from me. I have seen many intellectual fools who have all the book knowledge but never organised it into any productivity."
As far as he is concerned, life itself is a school. The best learning institution one can ever attend. When asked if he would have been better off if he had completed his formal education, Maduka says: "Well, I would not say that I did not miss school. Yes, I miss school because I still find it hard to do some things being uneducated. Going to school would have sharpened and refined me. I respect and acknowledge the importance of education and that is why I have hired experts in the company to apply their knowledge in structuring the business and grow it to become what it is today. That is how God wants it anyway; because no single individual is absolutely sufficient. I've been rejected and denied jobs because I am not educated. Today, I give God all the glory."


But would the mogul be willing to give an uneducated job applicant a chance in his business?


"Why not? If he has the required skill (I will employ him). I suffered rejection for not going to school. I know how it hurts so I will not hurt somebody else on that ground. I have quite a lot of them here (in my organisation). As a matter of fact, one of my general managers didn't go to school but if you bring him to the table with those who went to school, you won't note any difference. They are not useless people. I served on the board of Access and Spring Banks for 12 years and my contribution in these banks cannot be ignored."
Dream Career


He stopped going to school at the age of four when he was too young to make any choices. However, all he could recall was that he wanted to be wealthy and successful.
"I used to leave my head bald because that was the label for successful men in my village then. Any time I visited the barber, I would tell him to take away the hair on the centre of my head which is the reigning style of rich people, thinking that there was a magic of success that comes with being bald-headed."


But the road to success started with the N200 his uncle gave him after serving him as an apprentice in his auto workshop. Thereafter, he went into a partnership with his elder brother to form Maduka Brothers where they specialised in spare parts and sooner than expected, the business collapsed because they did not agree with each other in so many ways. After that, Cosmas ventured into motorcycle spare parts business.
"This saw my capital accelerated to N3000, but I later lost the capital due to wrong consignment and started all over again. This time around, I tried partnerships with friends but they all failed. That was how I set up Coscharis Motors which later grew into Coscharis Group," Maduka related.
And the Grace Crowned it All

The height of the grace for him was in 1982 when Nigeria's economy experienced total downturn. He takes up the story: "In 1982, when Nigeria's economy was worse than what it is today, we were one of the seven companies that got import licence from the Federal Government. That was how the breakthrough came and today we can now talk about Coscharis Group. To make it clear, many people look at Coscharis as a company that is into auto business only. But that is not the case. Our automobile business is just 17 years while Coscharis has been in business for 42 years. Coscharis Group comprises Coscharis Motors where we deal in automobile and spare parts sales; Coscharis Privileges, where we produce bottled water and yoghurt; Coscharis Medical, which is into sales of medical equipment. Others are Coscharis Technology, where we sell hardware and software; Coscharis Mobility, which specialises on leasing of cars as well as providing drivers to companies and Coscharis Agro-allied where we are involved in rice plantation."


He said the vision for the company is to become a timeless institution, create relevance and value.
"I have so much aspired to build a car and not just to sell cars. I saw the destination but the route is vague. Today, the vision is becoming a reality. Last year, we rolled out in our plant in Ikeja for our first Ford pickup truck and so we are producing Ford brand today in Nigeria and we believe that other models of the brand will come on stream as time progresses. Last year also, our agriculture industry received a boost; a dream I have been nurturing for 29 years. We acquired 3,000 acres of land in Anambra State and we had our first crop season. Today, we can now boast of Coscharis rice. We expect to create one billion dollar business in rice production and by the time the agro-allied business is fully developed, we should be able to employ over 3,000 people in Anambra State. We are not yet there but we are growing and the future is very bright for us."
Riding Through Challenges

Maduka says challenges in the country generally become challenges in the business world. But he has always striven to get the best out of every challenge.
"Last year, our sales volume dropped by over 50 per cent; that was traceable to the economic situation. As an optimistic entrepreneur, I believe I am living in the best time of my life because the present situation will enable us to think deeply and come up with new strategies to survive, thus making us even stronger when the storm is over."

"One person I respect and admire so much is late William Branham. I can't go a day without listening to his messages. I draw a lot of energy and inspiration from his works. I admire his simplicity and humility despite his status. I also respect the Japanese a lot. In fact, I model my life after them. I love their commitment, humility, precision and hard work. I learnt most of my character from them, especially commitment. If I had the privilege to write my autobiography, I will acknowledge the Japanese."
My Wife Has Been There All Through

Did he meet his wife when he made his money as was thought by some people? the Anambra State-born entrepreneur cleared the air on this.
"I met my wife when I was nothing. In fact, I almost lost my life in the process of getting her because she was from a wealthy home while I was still struggling. Her family told me they didn't want to see me anywhere around her and threatened to kill me if I didn't stay away from her. I remember there was a time I was shot at by his uncle because I went to her house to pay a visit. I had to drop the pickup car I went there with and took to my heels. My family also warned me to stay away her and she herself proved so hard to get. But, I insisted I was going to get her even if it will cost me my life. I was so poor that I borrowed a friend's pick-up vehicle to her father's house to pay her dowry. Today, she is in my house. She struggled all along with me to make it to the top and that is why I've decided to honour her in my business name. If you care to know, the 'Charis' in Coscharis came from her name which is Charity, while the 'Cos' came from my own name, Cosmas. She is also a signatory to my account."


Just as would a young guy searching for a beautiful life partner, Cosmas did not let the striking beauty of Charity escape him at first sight.
"Oh, she is beautiful! She's got the right curves in the right places and in the right proportion. She's slim and I love slim ladies. Immediately I sighted her, I said within me that this is my wife and wouldn't let her go. Aside the physical attraction, I love her because she is God-fearing."

He does not subscribe to the belief that one's first son or one's child in any case must take after the parent. To him, it could be anyone. To him, the best qualified wears the crown, as far as Coscharis Group is concerned.
"Coscharis is built not on a particular individual. Our succession plan is very clear. We are looking for the best brain that will take the organisation to a greater height and he or she may not come from my family. But if the person comes from my family, it's all good. I do not buy the philosophy that one's child must take over one's business upon retirement. I would rather hand over to someone who has the drive, competence and mind to run the business and not attach sentiments to it. I have made myself clear to my children that it may never be them and if it is, lucky them."
Asked whether the children are qualified or not, he says: "I cannot say for now, although they are under tutelage and monitoring. Two of them just finished their MBA and they have just joined the company less than two years ago. So it's too premature to say whether they are qualified or not. The taste of a food is in the eating. With time, I should be able to tell whether they are capable or not."

For everything that has a beginning, there is always an end. And so for the tycoon, the plan is to end up in his agricultural firm.
"I do not plan to be here in the next 15 years. I am most passionate about Coscharis Farms because I love nature. I love seeing things I put on the ground germinate and yield seeds. Ultimately, I am going to retire there."
But before retirement comes, how does he relax? "I only rest on Saturdays. My weekdays and Sundays are tight. I don't play with my Saturday because that is the only day I have to spend full day with my family. Then I take enough sleep and rest. On Sundays, I spend the whole day in church; leave home 8am and come back around 1am. I don't party, smoke, drink and I don't go clubbing. Incidentally, I do not watch television. I have been able to raise five kids without television. I make do with the print media for any information I need to know about latest events. Not that I'm a fanatic but the time I would have spent watching television, I would rather exchange it with my family and engage in some other things that will develop me."


Maduka says he loves playing and watching table tennis.

"I also love driving good cars and my motorcycle. Don't be surprised, we are bikers in my family. To date, I drive my motorcycle around. I drive motorcycle to work and business meetings especially when I want to avoid traffic. I also love driving it for fun."
Notwithstanding, he loves his BMW and Jaguar cars. "But I love BMW more. At a time, I used to have six different models of BMW in my garage. I love cars generally and I like driving myself. But I prefer driving manual to automatic because that's where I get the best performance and it makes me to be in (full) control. Automatic is too sluggish for me, I must confess. The BMW I drive now is manual."
Happiest and Lowest Moments

To the boss of Coscharis Group, the happiest moment was when he gave his life to Christ.
"I felt a flow of peace and happiness in me like never before. It gave me a sense of total fulfillment."
What is his lowest moment? He will always refer to the Ifeanyi Uba saga, even if he won't mention the name.
"That was in 2011/2012. It happened that I stood as a guarantor to somebody who I trust so much and the bank availed him close to $300 million. About $180 million of this loan went bad. Meanwhile, I didn't sign any document with the bank; they only loaned him the money based on trust because they knew me. When the loan which when converted to naira then amounted to N21 billion went bad, the bank wanted me to sign a document that I'm obligated to the commitment. I could not have done that and I could have as well exempted myself from the transaction because there was no documented evidence. My family and colleagues at work also advised me against signing because they were aware of the huge implication it will have on the company. After some time, I reflected on it again. I did not want to lose my integrity and confidence. Without informing anybody, I went ahead and signed the obligation. It was tough though. I was relieved and I saw it as a test which I won. Every month, N300 million dropped in my account as an interest rate for the obligation. I used to own 25 per cent of Access Bank, but I had to sell all my shares in the bank to pay the obligation. I thank God I'm out of it now but the most important thing is that I didn't lose my integrity."